What Does Prosper Hotels Do?
Prosper Hotels is a hospitality company focused on driving hotel performance through Revenue Management, Digital Marketing, and Group Housing solutions. We are committed to listening to our clients and team members to really understand and act on the evolving needs of the hospitality industry.
What Revenue Management Services Do You Offer Hotels?
Prosper offers hotel revenue management solutions that include in-depth onboarding, weekly pricing meetings, market segmentation, and pricing strategies. We also provide revenue reports that can be delivered directly to your inbox.
What Is Performance Marketing?
It is our program for digital marketing that is strategically focused on performance and driving revenue. There are many different channels and advertising options for hotels, but we focus on the ones that drive performance through the use of smart budgeting and targeting tactics.
Can Prosper Help with My Hotels Reputation?
Absolutely! Our Review Response Management program was designed to do just that! We will respond to your guest reviews and provide a custom reporting dashboard with your own login.
Can Prosper Help with Group Housing?
Creating group blocks and rooming lists can be tedious work that takes up a lot of time. Pass your contacts to us, and we will build it out.
Does Prosper Do Any Consultations?
Yes, we are happy to speak with your hotel or management company. We offer audits, revenue management training, General Manager training, marketing strategies, and more.
Do You Offer Any Other Solutions for Hotels?
We are hoteliers that enjoy working with hotels. If you are looking for a service that isn't listed on our website, please reach out and we can talk about how Prosper can assist your hotel.
Why Partner with Prosper?
Prosper has 120+ years of collective Hotel Revenue Management and Digital Marketing expertise.  All dedicated to a happier hotel team and a happier top line.
Our core team is made up of former Regional Directors of Revenue, former Sr Director of Business Development, and former Vice President and Commercial Director. Our team built the revenue management models currently used by Hilton that supports more than 2,500 hotels.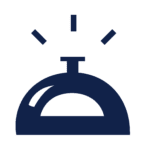 Is Your Hotel Ready to Prosper?
Ring the bell and reach out! We would love to hear from you.