In a previous post, we talked about hotels blindly throwing money into the Koddi platform without really knowing what to look for. We want to show you the things we look at when deciding our bids and budgets in Koddi.
The first thing we look at is the budget recommendations. If you don't have a budget in place or if you aren't sure how much you should be spending, this is a good place to start. $500 in a market like Nanuet, New York goes much farther than in a market like Chicago or San Francisco. The budget recommendations in Koddi will give you a good starting point, but you will probably notice one thing…they want you to spend A LOT of money.
 (The easiest way to see your budget recommendations is to log in to Koddi, click on Reports on the left side menu, and in the Report Name dropdown, choose Budget Recommendations)
For example, this is the budget recommendation from Koddi is for a small Hampton Inn hotel in a mid-sized market in New York for July, not on the coast.
| | | |
| --- | --- | --- |
| Month | Tactic | Budget Recommendation |
| July | Booking Network | $643.50 |
| July | Branded Paid Search | $0.00 |
| July | Display | $4,400.00 |
| July | Expedia Travel Ads | $642.40 |
| July | Generic Paid Search | $2,750.00 |
| July | Metasearch | $316.80 |
| July | Social | $550.00 |
| July | Sponsored Listing | $0.00 |
The budget recommendations for the month of July total $9,302. We don't know of many Hampton Inn hotels that have a monthly advertising budget of $9,000, but there may be some out there somewhere.
As we mentioned before, Koddi works with hotels and resorts of all different sizes in markets all over the world. Some of these tactics would be beneficial to larger properties, but you need to take the recommendations with a grain of salt.
If this was a partner of ours, we would focus the spend on Metasearch and Expedia Travel Ads. Depending on the market, we could possibly explore Booking Network.
Once you've decided on your budget and deposited money into your account, the fun part starts, setting your bids. Marriott, Hyatt, and other brands give you more control over your direct channel bids than Hilton does.
For the direct channels, you will see some guidance for your bids to help give you a starting point. If there is no guidance, you will have to experiment with your bids. Start low and change your bid based on how your ad is performing.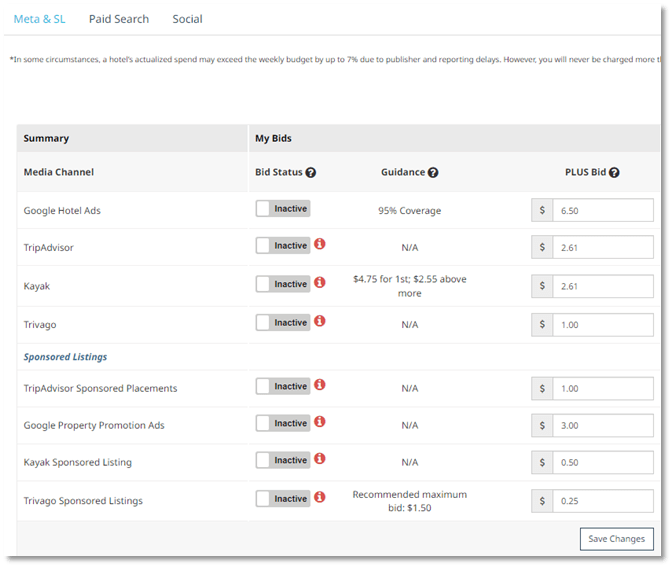 With Google Hotel Ads, we try to keep our coverage between 80-95% depending on budgets.
Another area that provides insight into your performance is under the Expedia Travel Ads tab. If you click on "Am I Competitive" it will show how your ad performance is stacking up. In the example below, the hotel could be more competitive with its bid, but it depends on your daily budget and if you are hitting it before the end of the day.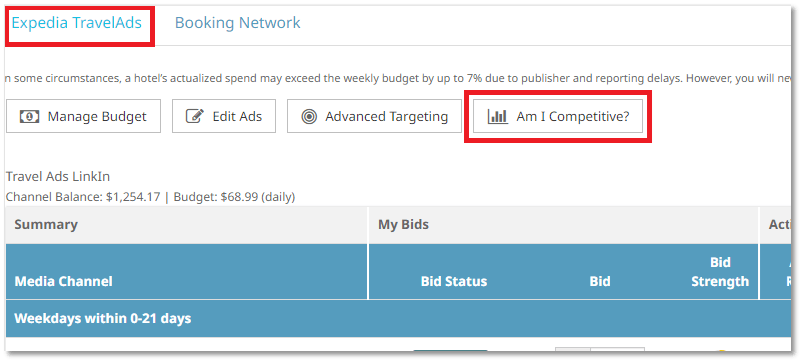 If you are participating in Booking Network advertising, there are daily budget recommendations that you can look at, but there is not much else thus far.
Once you have everything setup, let it run for a few days before making changes.
We will continue to share our Koddi advertising knowledge through our blog, but if you would like help with your hotel digital marketing efforts, please reach out so we can help your hotel prosper.